You can't enjoy today if you're worrying about the past or the future.
Hello everyone.. this blog is still a draft and set to post publish this December 1, to my christian sites ... I asked God to reveal something to me so I can relate with this blog I'll gonna post..... Until this Saturday... yes.. He answered me!!!Praise the Lord.. I know most of my friends know my present situation right now about my health problem (fibromyalgia)... but then very thankful to our Almighty God for His grace and love for us.. yes... because i will never cease to have fellowship with Him and to all my brethren in Christ! And hey... thank you very much for all your prayers my brothers and sisters in Christ... its your
prayers that make me strong and refresh too! when i saw this latest pics of mine last Saturday...
I know.. God healed me!.. I believe its a miracle... because what will you see to a woman who haven't
sleep or lack of sleep since Sunday (Nov.22) up today?
Yes.. definitely you will say I am not sick... heheeheehe.... even if I'm in therapy right now.. people never know that i suffer from this kind of sickness hahhhhahaha.. God is good!!!!
Last Saturday... I was able to travel together with my 2 kids, Dave and Clark to meet my half sisters and their family.
and there were also my only uncle left on my father's side with his daughters and grandchildren.. yes.. it was already a reunion for us since I haven't seen them all for so many years...we started with hi, hello, how are you and later we talked about the past we had with regards to our family.. it's an open book that I came from a broken family and both of my parties seldom to have a happy, good family... I was bless to see my uncle that time, for he is the only one who maintain his marriage among the boys..then meeting the family of my stepmother..thanking God.. after my father died..She found a good man who started building a family of their own and treated my half sisters as his own daughters... we learned many things in life,the ups and downs.... and many revealed secrets haahhhaahaha...but we end up... thank God for showing us His love and mercy! And what is important in life is TODAY... how we enjoy the true meaning of LIFE... though we have different kind of religion,... I know.. at that night... we all appreciate God's goodness to our lives...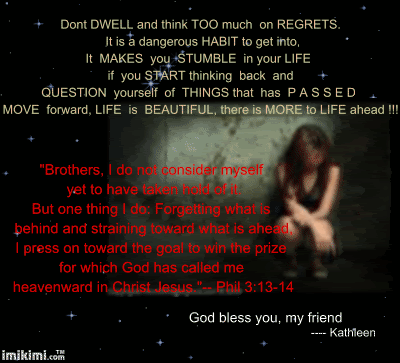 Your mind and your thoughts could be stuck in the past, continually thinking about what has already happened. If that's the case, it's best to get over it. The past has already happened; you can't do anything to change it. Rather, you ought to trust God that he is working out those things for ultimate good (see Romans 8:28).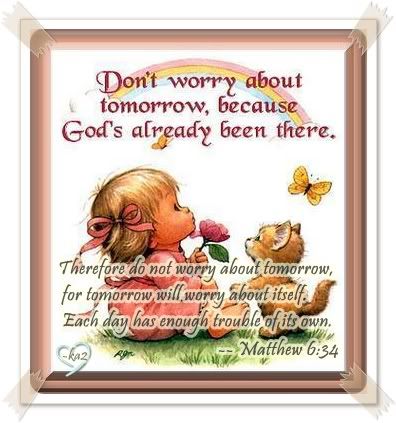 On the other hand, your mind could be stuck in the future, thinking about what might happen, what you fear will happen, and things you wish wouldn't happen. However, being a person of faith requires trust--trusting God about the future.

Romans 15:13 says, May the God of hope fill you with all joy and peace as you trust in him. You'll have joy and peace when you trust in God. Why? Because you'll be able to rest and relax knowing that God has good plans in store for you (Jeremiah 29:11).

Don't worry about the past or the future. Instead, have faith; trust God. When you trust God to help you learn from the past and provide for your future, you're free to enjoy your life today.