Imagine you are one of the disciples, you've just finished Passover dinner...

 
what a night it has been.  Unsettling. Disturbing. Urgent.  
Judas has left the group as the men wonder what had happened to their brother.  Then with a stiffened resolve, Jesus leaves the Upper Room on a quiet march toward his arrest.  With his disciples in tow, Jesus crosses the short distance of the Kidron Valley to the Mt. of Olives, stopping at the garden we hold so dear, Gethsemane.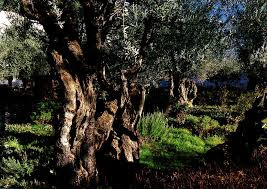 http://files.constantcontact.com/b4297a65501/6fab6cff-1e5f-4051-b647-c83693035f4d.jpg" class="CToWUd a6T" tabindex="0" />
"... he told the disciples,
 "Sit here while I go over there and pray."
Taking along Peter and the two sons of Zebedee, he began to be sorrowful and troubled. 
He said to them, "I am deeply grieved to the point of death. Remain here and stay awake with me." 
Going a little farther, he fell facedown and prayed, "My Father, if it is possible, let this cup pass from me. Yet not as I will, but as you will."
Friends, we have never seen this Jesus before.                                                   What has come over Jesus?  He is shaken to his core.                                            Only one word aptly describes his state: agony.
"Then he came to the disciples and found them sleeping. He asked Peter,
 "So, couldn't you stay awake with me one hour?  
Stay awake and pray, so that you won't enter into temptation. The spirit is willing, but the flesh is weak
."
Again, a second time, he went away and prayed, "My Father, if this cannot pass unless I drink it, your will be done." 
And he came again and found them sleeping, because they could not keep their eyes open.
After leaving them, he went away again and prayed a third time, saying the same thing once more. 
Then he came to the disciples and said to them, "Are you still sleeping and resting? See, the time is near. The Son of Man is betrayed into the hands of sinners.  
Get up; let's go. See, my betrayer is near
."
  Matthew 26.36-46
Oh, Jesus ... what are you experiencing, what are you seeing?
It is not just the horror of the crucifixion that awaits Jesus,                                          but he is seeing now that, even as he cries out to him,                                                      even as he pleads with him . . .                                                                                                          his Father remains silent. 
And further, he knew the moment would soon come when God the Father
      would turn his back on him as all of our sins are upon him--                                 Jesus was recognizing the agony of total separation from God.  
The physician Luke was the only gospel writer who wrote of Jesus' agony causing his sweat to become like drops of blood, falling down upon the ground. 
(Luke 22.44)  
  It seems that around the sweat glands there are multiple blood vessels in a net-like form; under the pressure of great stress, the vessels constrict. Then as the anxiety passes, the blood vessels dilate to the point of rupture and the blood goes into the sweat glands.  As the sweat glands produce a lot of sweat, it pushes the blood to the surface - coming out as droplets of blood mixed with sweat.  The clinical term for this is "hematohidrosis."  
Now today . . . what are we to take from that Garden where our Lord prayed, crying out to the Father?  
The horror of the cross began in the Garden, in Gethsemane, which by the way, means "oil press."  Jesus was being sorely pressed - he seemed afraid, and he was totally alone.   The realization of the wrath of God that he would face as our sins were upon him knocked him to the ground.
And I ask myself - how could anyone think that God would let
                                          Jesus go through this torture,
                                             if there was another way?
I mean, if 'being a good person' is enough to get to heaven,
   then why in the world would Jesus, the Son of God,
     equal in all ways with the Father, endure such agony?
And let us not miss Jesus' resolve to be served up, betrayed, by his own disciple, and go willingly into his arrest, torture and execution.
The Garden of Gethsemane displayed Jesus' great sacrificial love for us.
His love for you, his love for me.
That's what it was all about... that night.
Christine