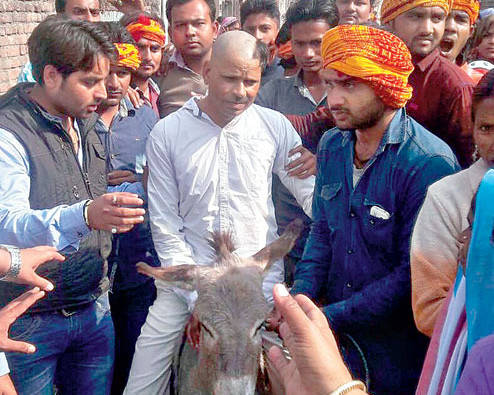 Lucknow: Suspected Bajrang Dal activists tonsured the head of a youth in Jalaun district of Uttar Pradesh and paraded him on a donkey for four hours on Saturday after accusing him of being involved in conversions.
Paraded through a half-kilometre stretch that includes two police outposts, Awadhesh Kumar was finally rescued when superintendent of police N. Kolanchi reached the spot with a large force around 10pm.
Kolanchi told The Telegraph that five Bajrang Dal members and the barber hired to shave Awadhesh's head had been arrested.
Awadhesh has denied that he had forced anyone to convert and has filed an FIR against 25 Bajrang Dal members and about 200 unidentified men.
"I have been practising Christianity for the last few years. But I have never insisted on converting anybody. Sangam Jatav, who is close to Bajrang Dal leaders, wanted to accompany me to Varanasi. But he cooked up a story against me after returning from there," the 35-year-old barber was quoted as having told the police.
Jatav, who has lodged a counter FIR, has alleged that Awadhesh and some of his friends "promised me a job and financial help if I agreed to visit Varanasi and meet some of their associates".
"But on reaching there, they took me to a church and forced me to walk on the posters of Hindu gods and goddesses and eat beef," the 30-year-old said, adding that there were six persons in the church at that time and they declared that he had been converted to Christianity because he had eaten beef.
The incident happened a month ago, Jatav said. He claimed he had approached the police soon after returning from Varanasi but was denied an audience. "I was upset and decided to inform the Bajrang Dal leaders," he said.
Police sources said they had received no such complaint.
Awadhesh has complained in his FIR that Akhilesh Diha, the Bajrang Dal convener of Jalaun, and his aides kidnapped him from his house, thrashed him mercilessly, tonsured his head and paraded him in the village on a donkey.
A witness said that addressing a gathering during the procession, Diha had alleged that Awadhesh had converted many Dalits to Christianity in the past.
"Diha and his other aides are absconding. The police are conducting raids to arrest them," superintendent of police Kolanchi said.
The police are also probing the charge that Awadhesh was forcing conversions.
Located 220km from Lucknow along NH25, Jalaun district borders Bhind in Madhya Pradesh. It is a communally sensitive place, with even a minor incident elsewhere leading to unrest here. There are 41 big temples in Jalaun town, compared to only 33 schools and colleges.
The Bajrang Dal runs a Ghar Wapsi (reconversion to Hinduism) programme here.
The Telegraph, Kolkata