'I'm just not a gardener, so we have to make it simple,' I said to my new neighbors who came to help us design and plant a (large) front yard in Northern California.  See, we had bought an old home in foreclosure and the yard was nothing but rocks and weeds, and there was much work to be done.  Though I think it was about 22 years ago, I remember like yesterday thinking, 'Now I will be happy to water occasionally, but I can't imagine much more than that; I don't like getting dirt under my fingernails.'  I know, such a girl I am.
But then . . . I planted a rose bush.  And then . . . a rose grew, and I was captivated by the beauty and the scent.  In an instant, I became thoroughly interested in gardening because I wanted more roses, and more roses, and more.  (I think I eventually had 45 rose bushes in my front garden.)  'How do I make them bigger and stronger?  What can I do to prosper their growth?'  To get at those answers meant learning about soil and what I could do to improve it - crazy transformation in this girl, eh?  Ah yes, quite so.
You see, not too many people plant things they care about-whether roses, tomatoes or herbs, and then leave them to chance or to the elements with no thought. In the last Morning Briefing, "Look Up," [
http://www.pastorwoman.com/podcasts/c41ea288-1424-46ac-bf9d-263c45a...
],  I discussed how we ought to tend our hearts like we tend gardens we love-tidying up debris, shoring up weak points, and feeding them the right things. 
Moving to Southern California, I ran into awful soil.  In order for much of anything of value to grow, the soil need be amended and fertilized regularly.  'What's the difference between the two-amendment and fertilizer?' you ask.  Well, that answer is key, and it pertains to you and me.  Soil amendment makes the soil healthier for sure, but
fertilizer is food for the plant and makes it grow stronger and healthier!
Note to self: a garden seed could break ground, live and die without flourishing.  
Is it possible a heart-yea, even a soul, could live and die without ever flourishing?
        Of course, it is, I just do not want to be that heart, that soul.
So let's consider our hearts as gardens ...
         we want to grow a healthy outcome, 
           a heart and soul that is growing
              and prospering in the things of God, 
                 what might we add?
I've been thinking a lot about that-and my answer may surprise you.
In the last couple weeks, I have participated in weekend worship services on both coasts of the United States, and two places in between.  Please 'check in' for a few minutes here with me - the fertilizer for the heart who is seeking after God is 
the place where the community of God comes to worship him.
If I have been on two coasts and a state in between, it means I have been away from home, right?  The funny thing is-when I was younger, I thought-'hey, we're on vacation, 'guess we won't be going to church ... great!'  But now, I love the opportunities when I am away from home to go to other churches, participate in worship with other communities of believers because the experience grows me and blesses me!  I pick up new thoughts, different songs and yet for me to worship God with other people while anonymous is so wonderful.
Is going to church required to be a Christian?  Of course not!  But, when we choose to follow Jesus, we are born into a family - the family of God.  It follows then that true believers will truly love to be with other fellow followers, family members.  Oh, it so does!   The writer of Hebrews said 'do not forsake the assembling of yourselves together'.
2
  But friends, the truth is, it is not about commands, riiight?  It is about our hearts . . . If we truly have hearts that beat with the pulse of Jesus, we will want to be with like-hearted others in our family, in his family; if we truly want to flourish, worshipping and doing life with fellow believers is irreplaceable.
Last night at 
5 pm
, I had the privilege of jo
ining together with a group of people in Flagstaff who call their gathering 'The Commons' - median age 25.
3
 One of the really great things about the folks 
- they met at the local historic Catholic church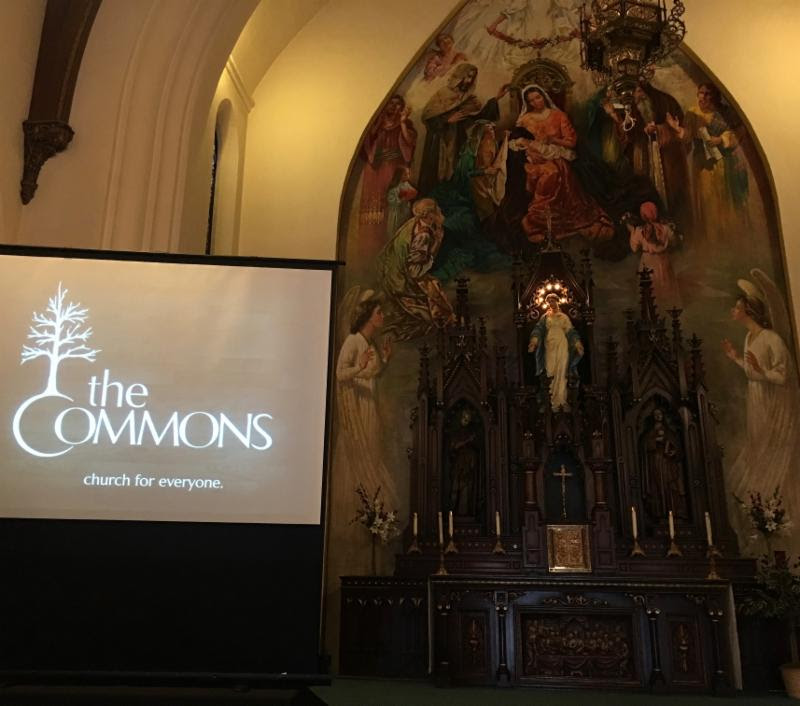 http://files.constantcontact.com/b4297a65501/2c93611d-2645-441f-bac3-e028221426c5.jpg" class="CToWUd a6T" tabindex="0" />
So beautiful inside.  The heart of the body was to welcome all - questioners, doubters, believers alike . . . and give them a place to entertain the notion that GOD I
S, or at the very least, might be.  Loved it.
'Really want to grow the garden of your heart?  Do not neglect the gathering of yourself together ~ to sing, to pray, to study, to meditate, to learn and worship.
Friend, if you truly want to grow,
you must open your heart and come together with others
who are coming together to take the risk
of opening themselves up to God.
For this is not just amendment, but the best fertilizer ever!  If you do not gather with a community of believers, it is my fondest desire that you would find a gathering and worship with them.
Christine
PastorWoman.com
2      - Hebrews 10.25